A Joyous January!
We are frequently having conversations about God's faithfulness, goodness, and grace that He has shown us through each day with our crew. Through the hardships, the victories, the challenges, and the celebrations, we are so thankful for a God who sees us (Gen 16:13), who hears us (Gen 16:11), and who desires to know us and our hearts (Psalm 139). This January was full of preparation, joy, celebrations, and remembering how faithful God has been to move mountains in small and big ways! We are looking forward to a full and fun February! We have many events coming up in February, so be sure to join us!
---
End of the Year Campaign!
A Blessing from the Community
Early in December, we were approached by friend and Mary Kay Consultant, Heidi Lloyd, about a fundraiser idea that she wanted to launch support the Desens House. After much conversation, she put a call out to her loyal customers about purchasing a Mary Kay gift to support women within our crew. We were absolutely blown away with the $180 worth of beautiful products and gifts for our ladies! We are blessing those in our crew on birthdays, participation, achievements, and more. 
Heidi – you're a blessing! Thank you so much for thinking of us this holiday season. We have already seen the positive impact this has had on our ladies.Be on the lookout for more collaborations with Heidi this year!
Thank you, Heidi Lloyd, for blessing our crew with amazing beauty products!
---
Coffee & Crafts
We had a great kickoff to our monthly Coffee & Craft series, hosted in our Production Space at The Connection Point. Carol Fitzsimmons, Mary Ann Sackman, and Kathleen Whitney brought over their pillowcase kits, sewing machines, and knowledge and kindly led us through a "Sew your own Pillowcase" workshop. We were thankful for their knowledge, respect, kind ness, willingness to work with us one-on-one over 6 sewing machines, and passion to help us to all become sewers! We had a blast learning a new skill and we all had functional pillowcases to show for it! We cannot wait to host these women again!
This month, we learned a new craft and laughed over sewing needles and thread!
---
Grab & Go Breakfast!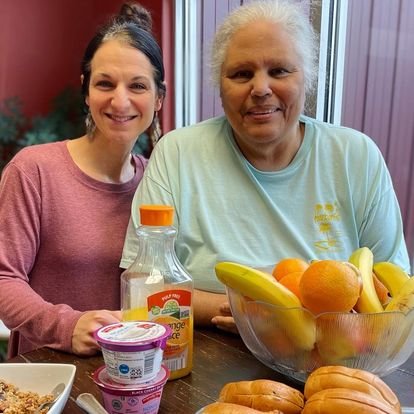 This month was the relaunch of the weekly Wednesday breakfast at Elim Grace Church. We enjoyed the homemade goodies, snacks, hot coffee, and delightful conversation. Life can be tough, but we are in this together. Shout out to Karen Valentine for stepping in big time to help set this up!
Join us Wednesdays at Elim Grace from 9-11 for breakfast!
GET INVOLVED!
Check out our calendar of events here!