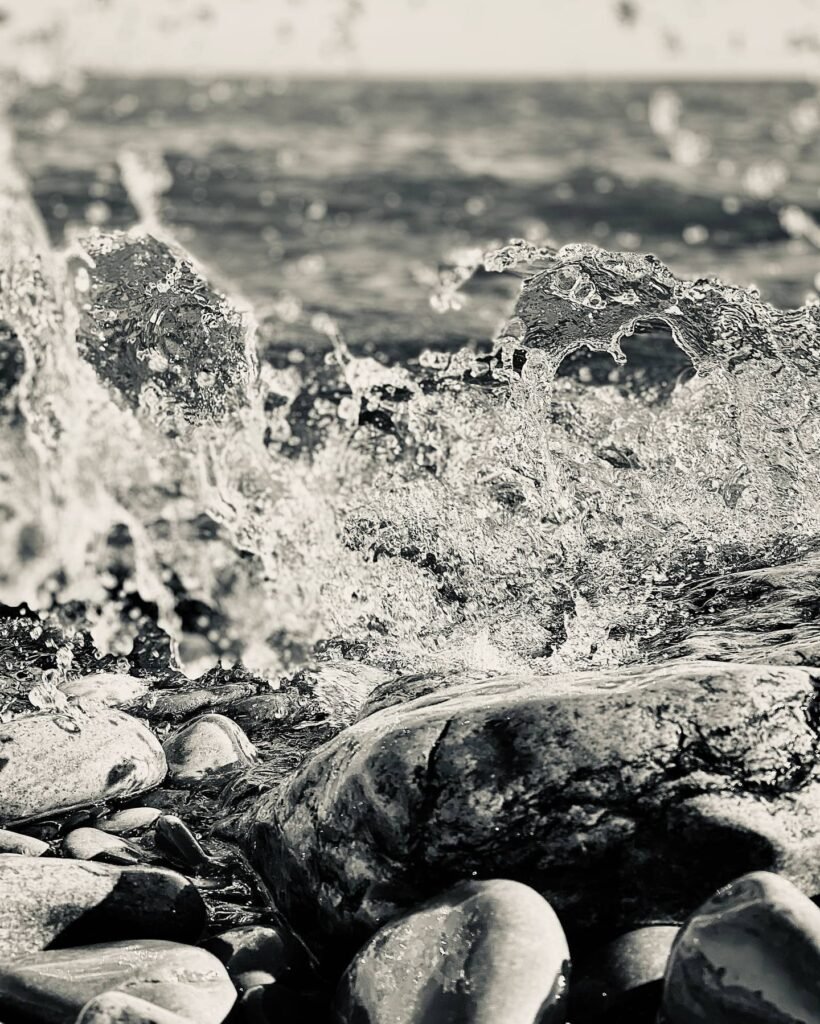 It takes courage to ask for help and it takes courage to step into each others lives.
THE COURAGE TO BEGIN
As a kid, I used to regularly wander into the kitchen at weddings to help with the dishes. (This was back in the day when weddings had a DIY feel and were usually hosted in a church basement.) I loved all of it. I loved walking into a space that felt familiar. I would walk up to a sink piled with dirty dishes and plunge my hands into the water. In an instant I was a part of something larger than myself: I was part of a team. I would stay there until the last dish was put away, or my parents eventually found me and dragged me home. I went to those weddings for the dishes.
In retrospect, I may have been more shy and socially awkward than I realized, most people can't really relate to this anecdote. Whether this is socially acceptable behavior or not, I loved how easy it was to gain entrance to that space. All I had to do was show up and be willing to wash or dry…and what happened in that space felt almost sacred. When we serve alongside each other there's a certain access of the heart and a generosity of spirit that is given to one another.
More recently, I was a part of a women's bible study that decided to put our study on hold one week and clean the house of a woman who was afraid of losing her kids. She was isolated from friends and family, alone in a foreign country with her young husband, a small colony of untrained semi-feral kittens and a dog that kept getting into the cat litter. Everything needed to be washed and sanitized before the visitation with CPS, and a few of us quickly signed up to help.
It took such courage for that woman to let us into her house.
I knew the women from bible study only through our weekly discussions, but the instant we crossed the threshold into another person's life, picking up our rags and sponges, we saw the character and strength of each other in a new way. One woman mentored this young mother through general organization strategies, another woman picked up things that were cringeworthy without cringing. We all knew someone's life was at stake, and whether she felt worth fighting for could be communicated in a glance or gesture. She was worth fighting for.
We all come with baggage. We all have hidden closets we wouldn't want someone to walk into and start cleaning. It takes courage to ask for help and it takes courage to step into each others lives.
One of my favorite verses is Isaiah 61:1-4, which Jesus read in the synagogue at the beginning of his ministry:
"The Spirit of the Lord God is upon me, because he has anointed me to bring good news to the poor, he has sent me to bind up the brokenhearted, to proclaim liberty to the captives, and the opening of prisons to those who are bound, to proclaim the year of the Lord's favor, and the day of vengeance of our God; to comfort all who mourn in Zion, to give them a beautiful headdress instead of ashes, the oil of gladness instead of mourning, the garment of praise instead of a faint spirit, that they may be called oaks of righteousness, the planting of the Lord that he may be glorified.
They shall build up the ancient ruins; they shall raise up the former devastations; they shall repair the ruined cities, and the devastations of many generations."
Isaiah 61: 1-4 Luke 4:18,19
'that they may be called oaks of righteousness…"
I have been poor. I have been brokenhearted. I have been captive. I have been imprisoned by anger and bitterness and God has brought me the good news of His hope, His joy and His salvation.
I see The Desens House operating in the space between verse 1-4 of Isaiah 61, coming alongside and empowering generations of women to build back the "ancient ruins of their lives and families." Our desire is to support and encourage these women, who are worth fighting for, and hold them up as they slowly rebuild their lives and learn new patterns of behavior.
-Dean Wright, Executive Director
MISSION
The Desens House will be a holistic, faith-based, community driven model of recovery, dedicated to setting generations free from the bondage of addiction. We believe that recovery involves the whole person: the mind, body and soul. We believe this is only possible with the support and dedication of a committed community, which incorporates friends, family and faith.
The Desens House will offer long-term residences (12-18 months) to women who have completed 30 days of sobriety. We believe environment facilitates recovery. The Desens House will be a mixed living residence with our mentors living alongside those pursuing sobriety. Our mentors will give our residents a model of what new life and healthy living can be. It is important to us that the details of the program, as well as the house itself, convey dignity and respect for our women.
In a long term-residence, our women will have the opportunity to slowly build a solid foundation of stable and supportive relationships throughout the community as well as healing past cycles of destructive and self-sabotaging behaviors. We believe that an environment of "adoption" into a new expansive family and community will have restorative effects. This community will grow slowly through participating in programs like Celebrate Recovery, volunteering with Victory Transformation and Bridge to Hope as well as actively participating in service projects throughout the community. The power to give back to others is crucial to slowly rebuilding self worth and transforming a sense of identity.
PROGRAM ETHOS
Our model of recovery will follow that of Betel International, which has been "dedicated to restoring broken lives" since the 1980s. This program began by inviting men and women into a peer-led residential living structure, and through a gospel oriented model of outreach and a strong work ethic they have helped more than 200,000 people transform their lives around the world.
Our residents will be encouraged to commit themselves daily to making small choices and practices. Although there are 3 phases, it will be an "advance at your own pace" model rather than a rigid structure. Fighting for a new life of sobriety will require the wisdom to pace ourselves appropriately, which will vary with each individual. Somedays may require a slower pace to accommodate the emotional and spiritual growth that is necessary to rebuilding a life. As our residents witness the lives of those around them they will slowly learn character building principles and techniques to pursue radical change.
WE NEED YOUR HELP
Being set free from the bondage of addiction is only half the battle. Rebuilding a life and a community is a daunting task that takes just as much effort. We don't need a building or financing to start this program: There are people in our community now that are fighting for a new life of sobriety, in need of friends, family and faith.
WE NEED MEN & WOMEN MENTORS
While The Desens House is a program exclusively for women, these women will come along with men in their lives, friends or family that we can be prepared in advance to mentor as well as our women. The Betel model advocates for a family centric program of recovery: "We believe that the Gospel restores not just the individual but the whole family."
There are men in this community right now that need mentorship.
There are women in this community right now that need mentorship.
Anyone who has struggled through a season of adversity will tell you that the hardest times can be the isolation of the evenings and weekends. In these moments, the fellowship of the church body is so significant, reminding us that we belong and that we're not alone. In the same way that we have needed seasons of care and support, we now need people willing to offer support to those fighting for new life and freedom. An invitation once a month for dinner, or lunch; or to go hiking or fishing; or to play games, or take walks along the river, could have a tremendous impact on someone's life. The opportunities are endless, they all just require a commitment to occasional availability.
We truly believe that God "doesn't call the equipped, but rather equips the called." If you are ready and willing to be used in this way, mentorship will be unique to your specific gifts and talents. Maybe it looks like a Saturday of fishing. Maybe it looks like a day of gardening with someone, or going out for a cup of tea. The point is there is someone out there for everyone.
THIS IS GOD'S MISSION. WILL YOU JOIN US?
If you are interested in getting involved with The Desens House in any way, whether it's mentoring or just learning more about our vision and dream for this program, please email me at  deanwright@desenshouse.org.